The UdL plans to teach degrees in Physiotherapy, Psychology, and Electronic, Industrial and Automation Engineering in the 2010-2011 academic year
Continuing education and official master's degrees given the green light for the coming academic year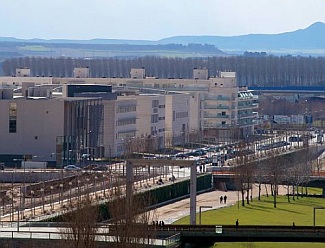 Cappont Campus
The Board of Governors has approved new degree programmes for the 2010-2011 academic year. They must now be submitted to the competent bodies for their final endorsement. The degrees in question are in Computer Engineering, Mechanics, Agricultural and Food Industries, Electronic, Industrial and Automation Engineering, and the new degree in Physiotherapy, which will be taught at the University School of Nursing. The degree programmes in Psychology, Forest Engineering and Tourism, on which work is being done to include it as a UdL-specific degree, are all pending approval next September. All of the qualifications offered by the University of Lleida will have thus adapted to the European Higher Education Area in the 2010-2011 academic year.
The green light was also given to the new official master's degrees proposed for 2010, which are as follows: Access to Careers in Law, Accounting, Auditing and Management Control, Psycho-pedagogy, Sports Law, Heath Education, Nursing and International Health, Nutritional Research, Biotechnology in Health Sciences, Paramedic Emergency Care, Primary Health Care and Community Health, Occitan Language and Culture, Advanced English Studies, Teaching Spanish/Catalan to Immigrants, Industrial Engineering, Free Software Engineering, Forest Engineering, Fruit Growing, Agricultural Engineering and the Euro-African master's degree in Social Sciences and Development Studies. As far as continuing education is concerned, the Board of Governors has approved all of the programmes for the 2009-2010 academic year that, according to the Vice-rectorate for Teaching, have been designed to promote UdL-specific degrees. Of all of the courses on offer, it is worth highlighting those in the health sciences, such as Hyppology, Clinical Sexology and Sexual Health, between Adults, and those in agriculture such as the master's degrees in Agri-food Law and Forest Fire management. The master's degree in Bio-construction, which is currently only taught in Germany and will only be available in Spain at the UdL, are also worthy of mention.
Everything is in place so that 90% of the UdL's qualifications will have attained degree states at the beginning of the next academic year
Today, the UdL also adopted a regulation to govern e-learning resources that will be made available to students who take semi-distance subjects online. With regard to degrees, 30% of the 240 ECTS (European credits) will be available on a semi-distance learning basis. However, none of the degree subjects are taught exclusively online. The regulations approved on master's degrees will make it possible to study subjects fully online. The platform that will be used for this type of learning is the UdL's virtual campus, Sakai.
The Board of Governors likewise approved the various equivalence tables between degrees and old qualifications, except for those in Biomedicine and Labour Relations. Everything is in place so that 90% of the UdL's qualifications will have attained degree states at the beginning of the next academic year
Listen this text
Last modification: